Among the treasures displayed at iHub there are unique jewellery designs crafted by jewellery maker, Jan Kearvel.  You can find an exclusive item to add to your collection or to gift to someone special.
Jan has 'played 'creatively all her life, but twenty years ago, when she developed rheumatoid arthritis, finding the hand exercises boring, she tried several things to keep her fingers moving and it made sense to make something while she was moving her hands. After taking a night class series she began creating pieces using unused or discarded metal. There are lovely copper forms where she has utilised an old fire guard for material and others where the medium is metal cut from a discarded industrial light fitting. In the early days these took the form of little birds and then gorgeous copper butterflies. As time moves on so has her creativity and the bush is motivating her to use leaves and vines as inspiration for her pendants, bracelets and earrings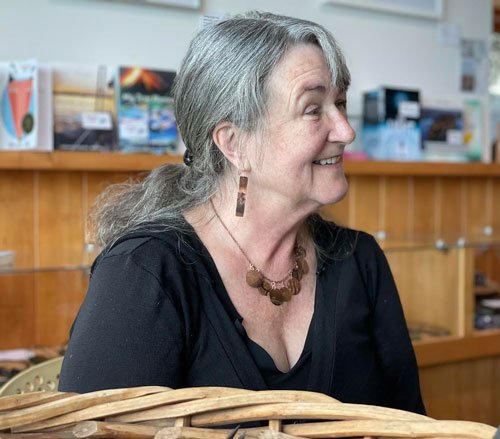 Jan calls herself a crafting junkie. This has meant that not only does Jan work with metal she has sometimes combined them with wood, paint and embroidery cottons and colourful glass and crystals. The ideas are often inspired by nature observed on her own property set in bush. People bring Jan old or broken jewellery that is precious to them for her to remodel into something that they can love and keep on using. For example, it may be a string of Grandma's old beads that they can remember her wearing or a broken necklace that they want transformed.
Jan's interest in recycling has meant that she has made some interesting jewellery from old coins she was given. She makes her own sterling silver hooks that she has designed and made to suit her designs. Some of the copper items could leave residue on the skin, so she has found a sealant to prevent that happening.
Jan works in various places around her home depending on the material she is working with or whether the grandchildren may be around. The garden shed provides access to all her tools (and suitable ones that her husband may have left after working on his motorbike project) but a trestle in her bedroom provides a sunny spot when she is in painting mode. Upstairs in the garage is a safe place, away from young hands, to keep and work on her glass jewellery.
Because Jan's jewellery is bespoke you won't find another piece that is the same and it is unlikely that she would want to copy one she has already made as she will have moved on to the next thing that has inspired her.
The name for her jewellery – Metal Moon – has its genesis in her family roots in the South of England. Her grandmother's brother had Moon as his second name. Because many of her designs were round and she was working with metal at the time it felt fitting.
On display at iHub there is a great children's book that Jan has written and illustrated about Grandpa and his motorcycle. Jan found she had spare time when going to motor bike races with husband Mike and when looking around at all the characters involved, thought there was a story to be written. It is clever and written in rhyme. Luigi's Monster would be a great buy for a child who is interested in things mechanical or has a Grandad who is still a teenager at heart with his bike and the wind in his hair.
In their spare time when she and Mike are not at work or tinkering on their projects, they are rewilding an acre of land they have purchased that was covered in timber slash. All this is done when her rheumatoid arthritis is not causing an issue, when the weather allows for outside work, or she is not feeling like sitting around just reading the books she loves
Finding a market was exciting and a bit terrifying but she took the plunge, joining a local car boot  sale.  Later she shared a stall with a friend at the local Creative Market, and when it was suggested she display her work at iHub she then felt confident to take the opportunity.
iHub provides not only the space for her displays but a connection with like-minded people. Not only that, but it also makes for purposeful creation. Jan likes to think about people wearing her jewellery and loves the sense that it could end up in many different places and treasured by the person who owns it. 
You can find out more details about Jan and her work by visiting iHub 7 days a week between the hours of 10.00am and 3.00pm.