As part of their contribution to Raglan and the community, iHub forms partnerships with local businesses and one of these is Iso Bistro and Cocktail Lounge. 
Situated in the middle of the main street Iso forms an integral part of local hospitality and the name, originally Isobar, was inspired by the owners, Matt and Rebecca Taggart's love of wind sports. The weather playing such a significant role in their business and lifestyle made it an entirely appropriate choice.
The café has a European flavour with a stylish and contemporary interior giving guests a choice of experiences. Its cozy and inviting atmosphere serves as an ideal backdrop for friends catching up over a cup of coffee, dinner, business meetings, or simply a peaceful moment of solitude. You can sit at the gorgeous bar to have one of their specialty cocktails or you may want a dining occasion in the friendly dining room with a warming fire on cold days. The elegant lounge area welcomes you in for a quiet drink before your meal or as a pleasant end of a working day. Outside the open fire invites you to come out and share the outdoors with your friends for a drink or a shared plate. 
Caleb is a local chef and surfer who has worked in London and brings this international influence to his menu planning and to create his combinations he uses the best local ingredients. Enjoying teaching, he is training local rangitahi who want to learn the profession.
Dylan is an Australian chef, originally from Sydney, recently returned. He is calm and quiet in the kitchen and prefers to let his food make a statement. "I love working with fresh seasonal produce, sourcing as much locally as we can", he says, "I like to live a healthy lifestyle and try to reflect that in the menu also, keeping things clean and simple, but obviously full of flavour".
New to Iso in February, Letitia who comes from Uruguay manages Iso and is adamant that the customer should leave Iso feeling well served, having had an enjoyable all-round experience. Her team hail from as many as six different countries, including her partner Rodriguez who you will spot behind the bar mixing the delicious cocktails on offer. The vibe of Raglan, the open mindedness of the residents and of course, the beach and the famous surfing attracts these people to the town. They add their own colour and character to the Bar with service and customer satisfaction being the main driver of what they do.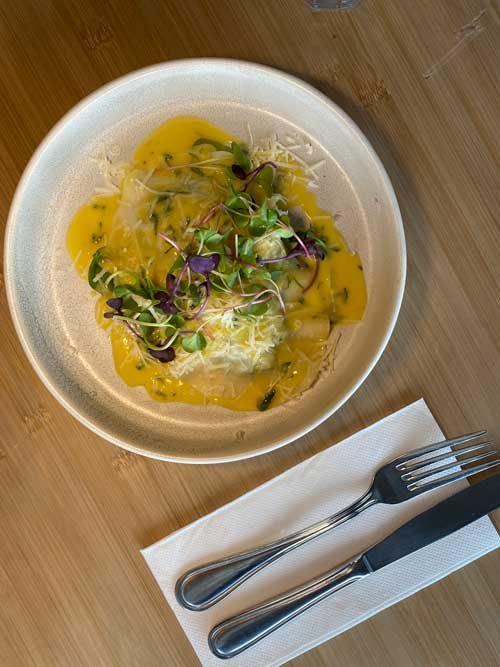 The menu boasts an array of delectable options, making it a wonderful place to enjoy fresh, flavourful, and nourishing meals. Supporting local providers is important to Iso and this is done as much as possible when planning what to serve customers. If you would rather eat in your own home Iso is offering their menu as a takeaway selection giving you quality at a cost not dissimilar to other choices available.
By providing a platform for local artists and musicians to highlight their talent, the Bistro has become a focal part of the town's creative fabric. Every Friday you can enjoy music in the lounge with a local band and each week on 'Thirsty Thursday' a different DJ allows for the customer to appreciate a variety of offerings after dinner. It is a pleasant, safe, and comfortable meeting place for regulars and visitors to experience along with the hospitality of the friendly staff.
As a part of supporting Raglan society, the owners of Iso contribute by donating goods and services such as gift cards, a meal or a function to community groups who are raising funds for various causes. These are often given as prizes or auctioned at a funding raising event.
If you have a special event coming up such as a wedding, anniversary or particular birthday have a chat with Letitia and see what a unique occasion you can make it in this distinctive environment.