Adventure enthusiasts, allow me to introduce you to Raglan Kayak & Paddleboard, a beloved family-owned and operated business that is currently celebrating an impressive 20 years of delivering extraordinary kayak experiences in this picturesque coastal gem!
Nestled in the heart of town, Raglan Kayak & Paddleboard operates right by the water edge at Bow Street jetty, a perfect location to access the pancake rocks and explore the stunning Raglan Harbour. And to commemorate their 20th anniversary, they've taken their most iconic excursion called "The Kayak & Coffee" which was created at the very humble beginning, to the next level. Refreshing it with the use of their brand-new sea kayaks, hence the new name "The Sea Kayak Excursion".
This is a journey synonymous with quality adventure and relaxation. It ticks all the boxes if we're being honest. During your excursion, you get to explore deep into the mystical limestone coast and indulge in decadent treats, fresh fruits, and locally roasted organic coffee on the beach along the way. This isn't just a kayak excursion; it's an outing that celebrates the natural beauty of the coastal paradise and the pleasure that comes from slowing down.
(This is a 3-hour guided tour – please note that some experience is required for this option).
For those who are new to kayaking, seeking a shorter outing, or a family-friendly adventure, the Limestone Express Excursion is your number one choice. This is the most popular option by far as it also explores the core of the pancake rocks and the limestone coast and is perfect for beginners and adventures alike.
(This is a 2-hour guided tour on user friendly and quality sit-on-top kayaks)
That said, it pays to note, that both of their guided excursions focus on sharing a deep passion for the local environment and honouring the vibrant history of the community. Nature is the ultimate escape, a way to reset and rejuvenate, and kayaking is your ticket to a personal encounter with its wonders.
For the experienced kayakers who are wanting to rent the equipment and go on their own venture, they provide priceless technical guidance, a must have for those planning to enjoy a freedom rental, ensuring safety and enjoyment. Raglan harbour is very tidal and so you can trust their team to direct you in the right option when booking directly with them.
Behind this exceptional venture is the Reid family, owners and operators since day one – Stephen, Candide, and their son Sky. They embarked on this journey with a dream and boundless hope, and today, 20 years later, their joy and passion continue to fuel their entire team. Each team member embodies professionalism, care, and a dedication to creating memorable experiences. At the heart of their business is the commitment to fostering good times and connecting people with nature and each other.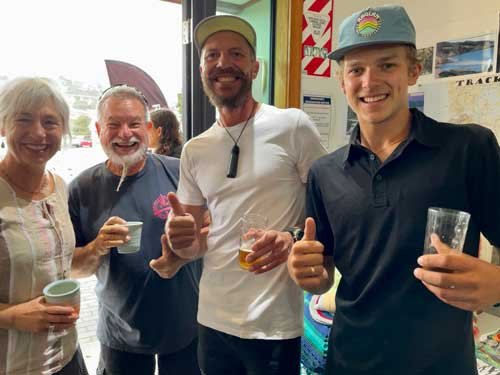 At Raglan Kayak, it is clear to see that your experience is at the core of their business principles. They provide top-notch customer service from start to finish, from seamless booking experiences to the provision of high-quality equipment and professional friendly staff.
Your adventure with Raglan Kayak promises to be a highlight of your visit to Raglan. And you can trust their 20 years of local experience to truly cater to your unique needs in a safe and exciting manner. The options of guided tours, freedom rentals and lessons are on the menu for all to enjoy. Focussed on inclusivity, they can point you to your ultimate option in accordance with your experience and fitness level.
If you're unsure about which is the best adventure for you, feel free to contact them directly, visit their website at www.raglankayak.co.nz or drop by and meet their team by the water's edge at Bow Street Jetty, 9am to 5pm seven days a week during the high season, weather permitting. Their workplace is as open-air and welcoming as it was two decades ago, consisting of two trailers and a waterfront service like no other.
The Raglan iHub is also a great place to drop by for more details and to book your excursion. The Raglan iHub values supporting our local business providers and appreciates the support from Raglan Kayak and Paddleboards.  With thanks to our awesome team of volunteers who operate the iHub, the iHub is open 7 days a week 10am – 3pm.