Covid Update



As of September 13 the wearing of masks in retail spaces is no longer a mandatory requirement. Of course, if you feel comfortable wearing a mask, please continue to do so.
Museum Fees



U
pdated

visitor fees

: Adults $5, Children $2, Pre-schoolers free.


https://www.raglanmuseum.co.nz/
Contact Us
We don't know everything, but we know a lot 🙂
SHOP OPEN 10am–3pm 7 days
13 Wainui Road, Raglan, Waikato 3225
'Weaving experiences through people and place'
Welcome to the Whaingaroa/Raglan iHub, the one stop destination for all you need to know about this beautiful place.
We are a community defined by our natural rugged landscape, our unique connection from shoreline to mountain top, inland to our gentle rolling hills, our daily lives in synchronicity with the ebb and flow of the tides and changing seasons.
This place is made up of our coastal township of Raglan and our rural communities. We are diverse, we value hapu and iwi, we are people friendly with a strong community spirit grounded firmly in taking care of each other and our environment.
We celebrate creativity; arts, music, dance, theatre, drama, education, food and innovation.
We are renowned for our world class surf breaks, however, Raglan has so much more to offer, whether you're seeking that perfect wave, exploring our eclectic shops, browsing our numerous galleries, learning our rich history, or simply enjoying a coffee, Raglan has something just for you.
We warmly welcome you here to this place that we are blessed to call home, we ask that you love and care for our place, as we do and in return, we will take care of you.
Nau mai, haere mai ki Whaingaroa
Activities
Swim | Surf | Bike | Kite | Fish | Sail | Kyak | Paddleboard | Rockclimb
Explore
Tracks | Trails | Karioi | Wairaenga | Arts Trail | Boat Cruises
Karioi Mountain is 756m high, also known as 2,480 ft.
Putoetoe is the original name for the Raglan township.
Eat / Drink / Relax
Cafes | Restaurants | Events | Markets | Movies | Music | Relax
iHub Signboard – NEW
We are excited to announce a new promotional signboard outside the Raglan iHub on Wainui Road and visible 24/7.
Camping Taupuni
Check this new resource for all camping details in our district:
Click links for full info:
Creative
Artists | Authors | Crafts | Clothes | Galleries | Studios | Upcycling
iHub Shop
10am–3pm
Arts | Books | Crafts | Jewellery | Upcycled Clothing | Maps | Guides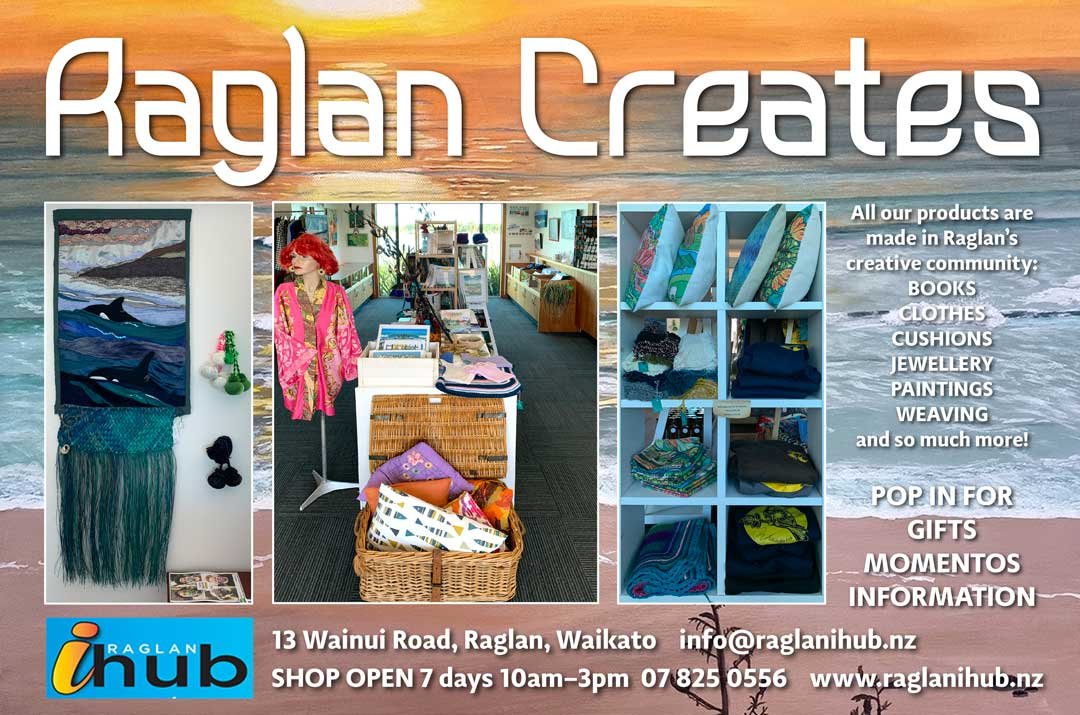 Raglan – where Mountain meets Surf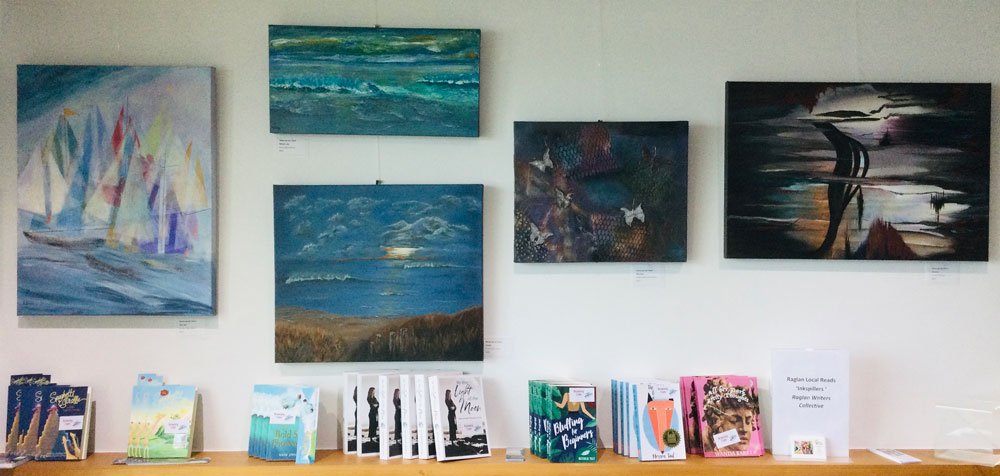 Raglan – where Creative Lifestyles prosper
Raglan Local Energy (RLE) is your community-focused electricity retail service. With the help of good people and smart tech, we provide an easy way for people to share clean, local energy.
RLE is all about enabling the Raglan Whāingaroa community to lead the way in local, sustainable energy production and conscious consumption.

If you reckon energy that's community-oriented, offers great rates, supports Raglan in becoming a beacon for a zero carbon energy future and helps drive uptake of clean, local power generation, then RLE is for you!
Raglan – Then – 1987
Gary McCormick as a genial small town anthropologist discovering the locals, and Dave McArtney alongside Midge Marsden and the Mudsharks at the Harbour View Hotel, and discusses land rights with kaumatua Sam Kereopa.

History
Go tour our selection of historical articles, photographs and videos AND, of course, our Museum!
Raglan – Now – 2021
Muroki and Benee talk about life in Raglan. Muroki and his band recently mixed some small town dates in Raglan, Leigh and Colville alongside headline shows in Auckland and Wellington.

Nightlife
The YOT Club and Raglan Club feature local and international music, plus the Open Mics are legendary.
The Whaingaroa Raglan Destination Management Organisation which manages the Raglan iHub is grateful for funding support from the following organisations: